Sarà la battaglia finale per il trono di Westeros? O per l'esistenza degli uomini? Non si sa ma è comunque un record.
La celebre Battaglia dei Bastardi nella sesta stagione di 
Game of Thrones 
è stata uno scontro epico, anche se forse la sequenza è stata poi superata dagli 
attacchi di Daenerys
 con tanto di draghi finalmente adulti visti nella settima stagione dello show.
E che dire poi delle scene in cui l'esercito del Re della Notte oltrepassa la Barriera? Non è uno scontro vero e proprio, ma l'armata dei non-morti impressiona e non poco.
Bene, tutte queste sequenze saranno probabilmente surclassate da un'altra grandiosa battaglia che la produzione sta preparando per la stagione 8 della serie. È una sequenza epica che ha richiesto ben 55 giorni di riprese, senza contare la post-produzione.
Si tratta di una mole di lavoro mai vista per lo show, che per tutte le battaglie precedenti non è mai andato oltre il mese di riprese. Per l'ultima stagione, dunque, HBO ha deciso davvero di fare le cose in grande, anche e soprattutto a livello economico.
La notizia è stata diffusa dal sempre vigile sito Watchers on the Wall, che ha prontamente individuato un post su Instagram dell'assistente alla regia Jonathan Quinlan. La foto, che è stata rimossa dal social, rappresentava una nota di ringraziamento della produzione verso tutti i partecipanti alle riprese. Eccola: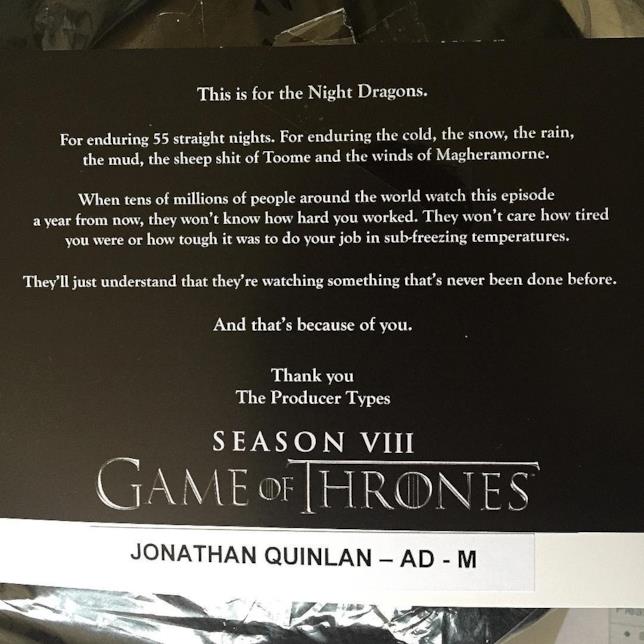 Il breve messaggio parla di "freddo, neve, pioggia, fango, mer*a di pecora di Toome" e i "venti di Magheramorne". Queste referenze geografiche sono molto chiare: tra le location di GoT, infatti, quei luoghi sono stati già utilizzati per il set di Grande Inverno, quindi è più che lecito aspettarsi uno epico scontro ancora sulle mura della fortezza degli Stark.
Contro gli Estranei (a cavallo)? Probabile.
Ancora, sotto alla foto, Quinlan aveva chiosato con "[il messaggio] dice tutto. 55 notti consecutive, 11 settimane, 3 location. Non vedrete mai più una cosa del genere".
Insomma, sembra che questa battaglia segnerà nuovi standard per le scene d'azione televisive. Non è detto che si tratti necessariamente di una scena lunga, in quanto il tempo di ripresa non sempre rispecchia il tempo di messa in onda, tuttavia ci aspettiamo qualcosa di memorabile.
Game of Thrones, lo ricordiamo, tornerà con l'ottava e ultima stagione nel 2019.
Fonte: Mondofox